Current News & Events
Masjid Safety and Risk Assessment training
Eid Fest 2022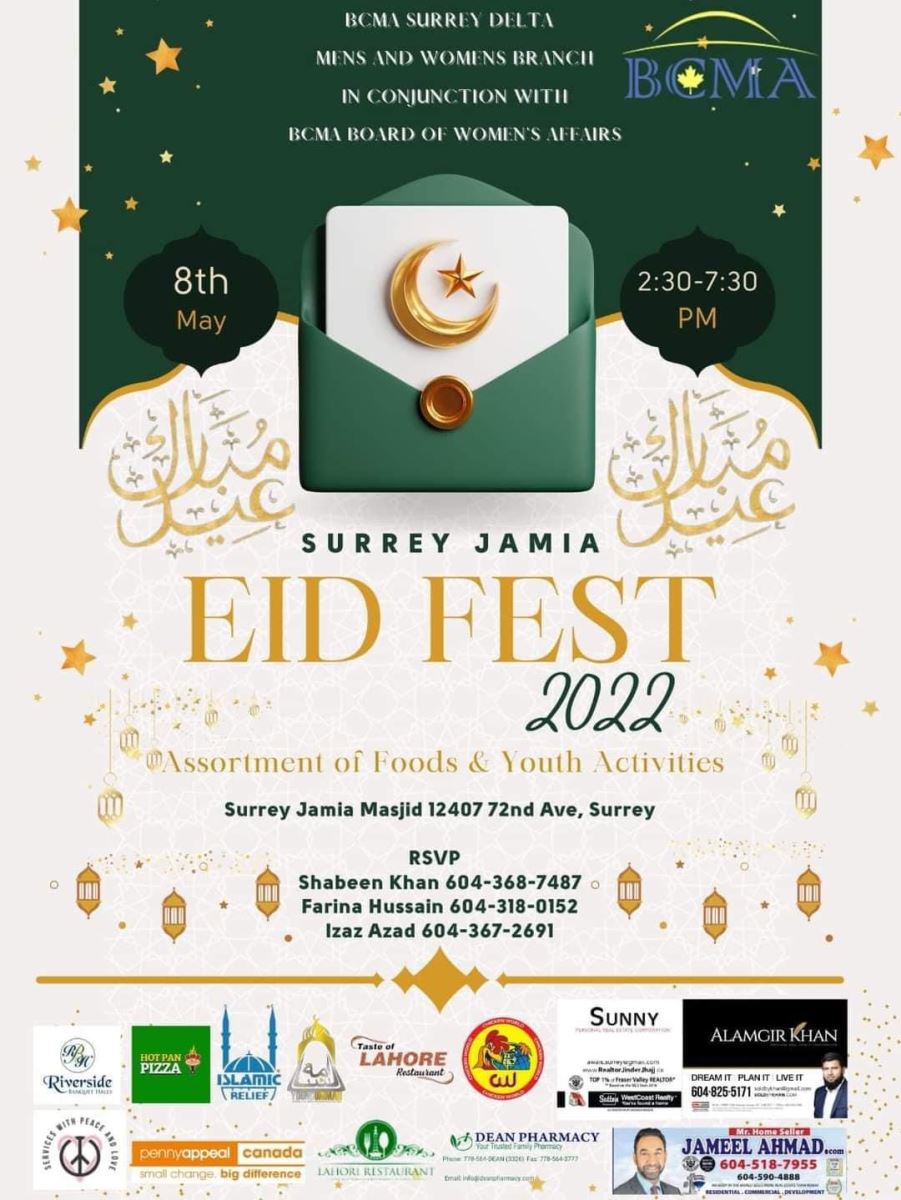 BCMA President – Eid Mubarak
Eid Ul Fitr - Sahwwāl 1443 will commence on Monday, May 2, 2022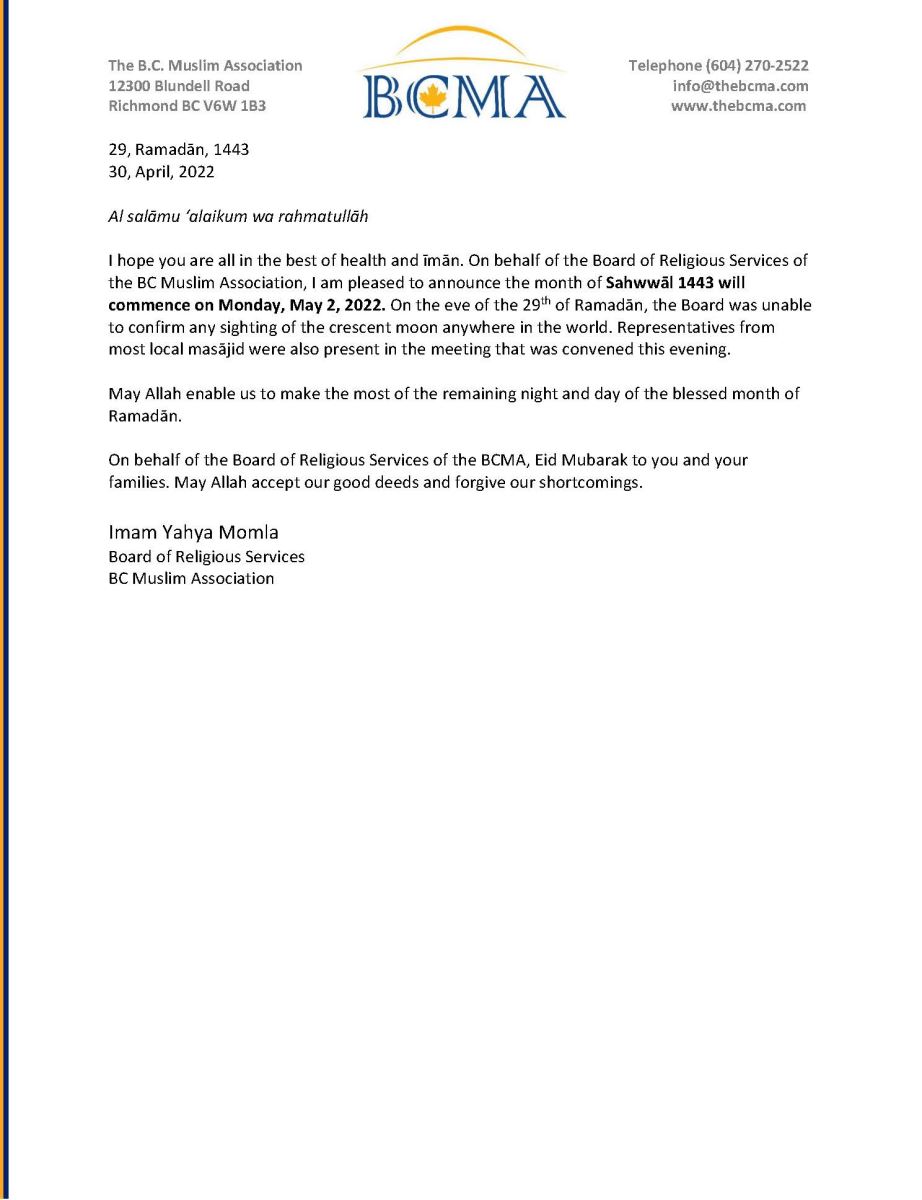 BCMA Press Release – Surrey Delta Mosque Attack
Eid Prayer Time and Locations 2022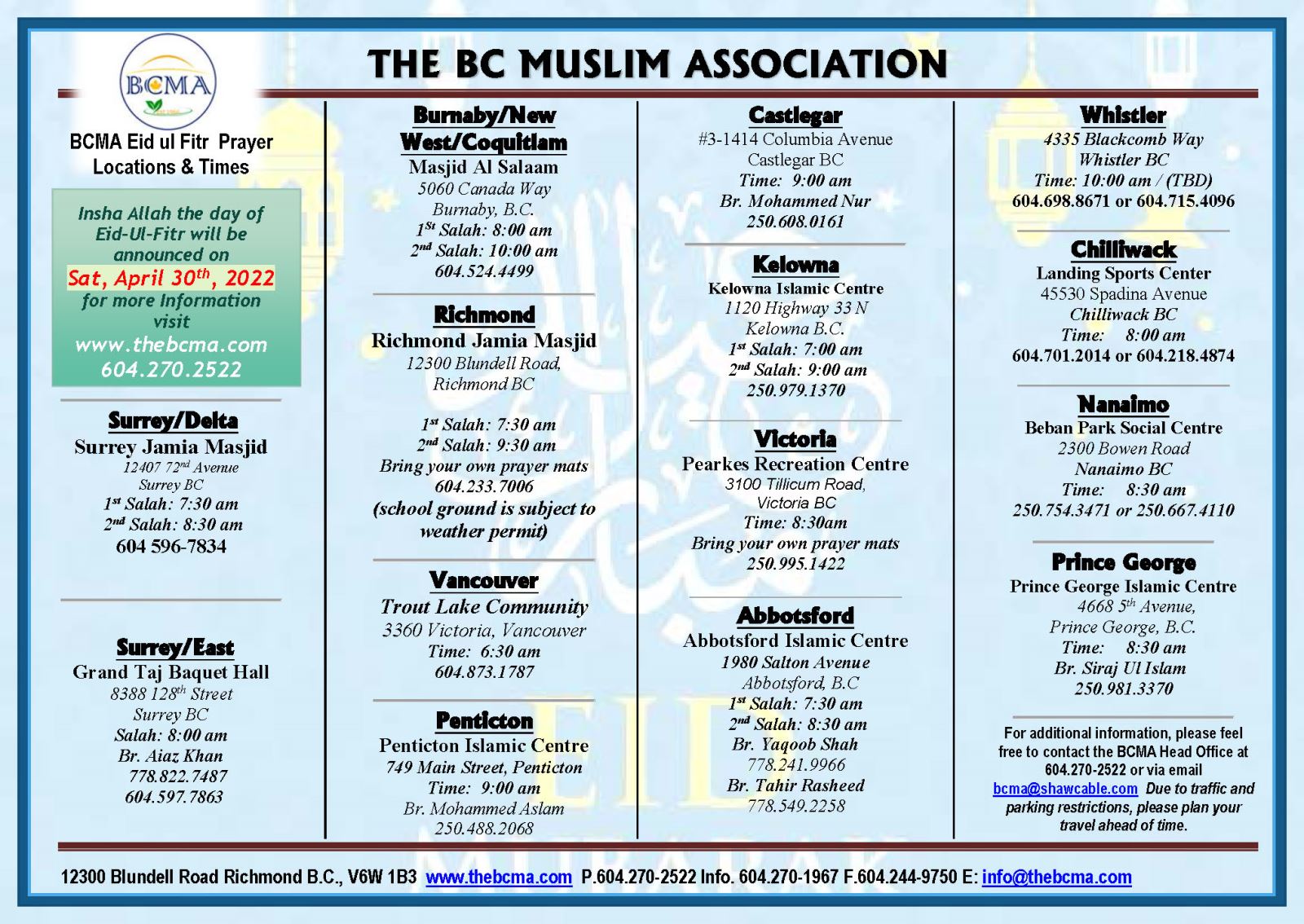 BCMA Press Release – Al-Aqsa Mosque Attack
BCMA President – Ramadan Mubarak
Ramadān 1443 will commence on Saturday, April 2,– Ramadan Mubarak
New Jumu'ah location in Prince Rupert BC
New Jumu'ah location in Terrace and Kitimat BC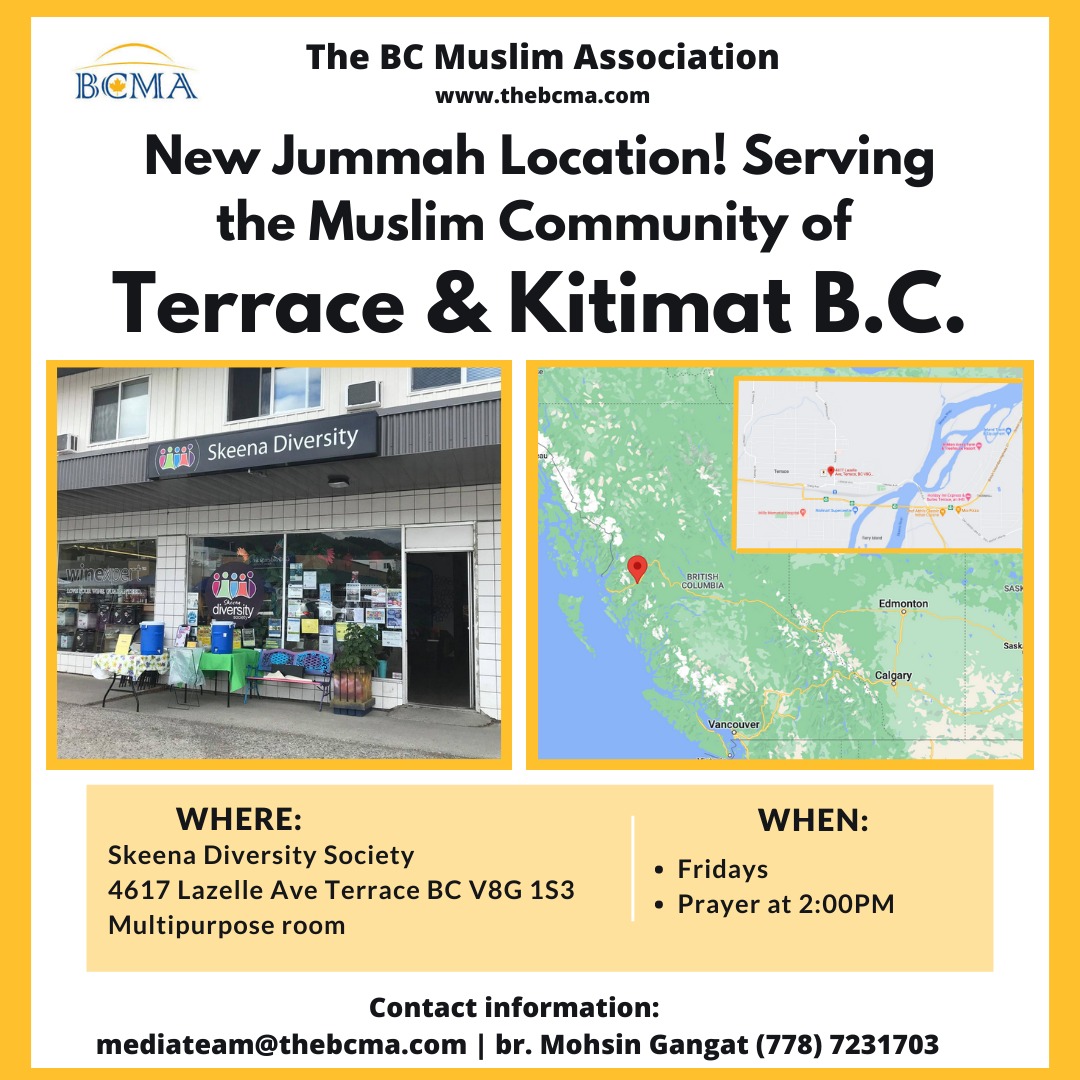 Masjid Al-Rahmah - Food Hamper distributions Mar 26, 2022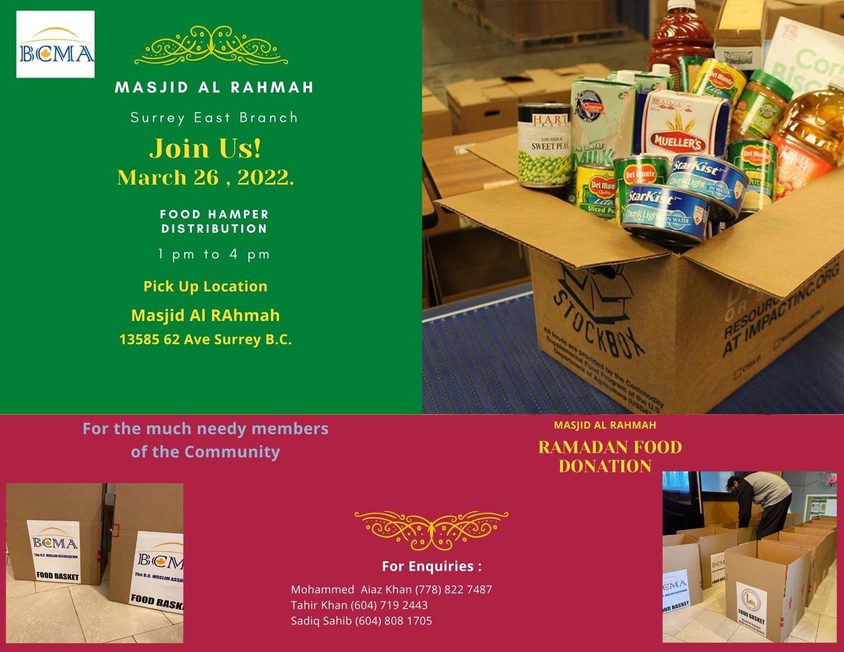 Masjid Al-Rahmah - Salah Workshop - Mar 26, 2022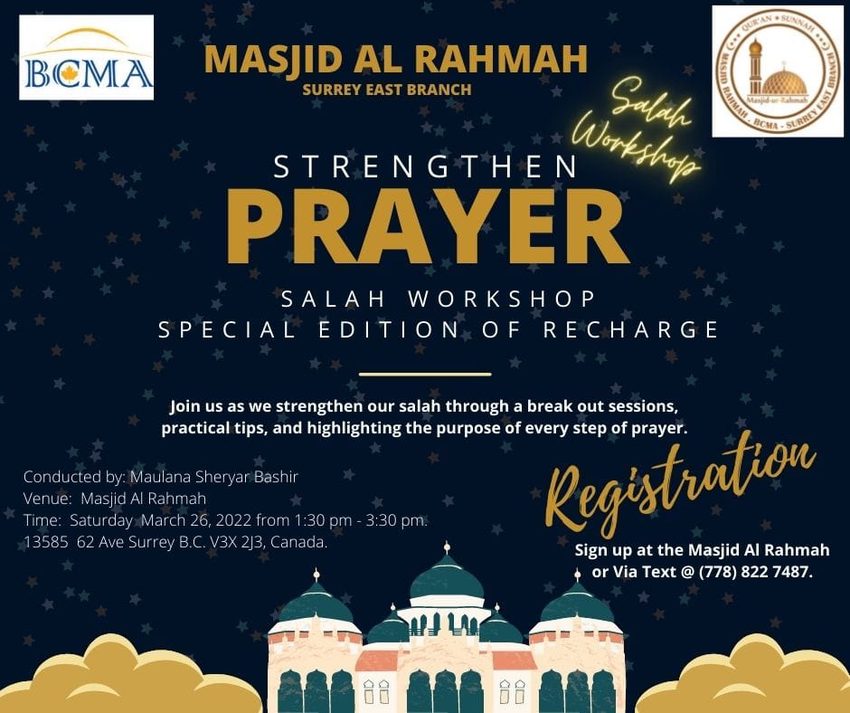 Surrey Jamia Masjid - Sister's Ramadan Halaqa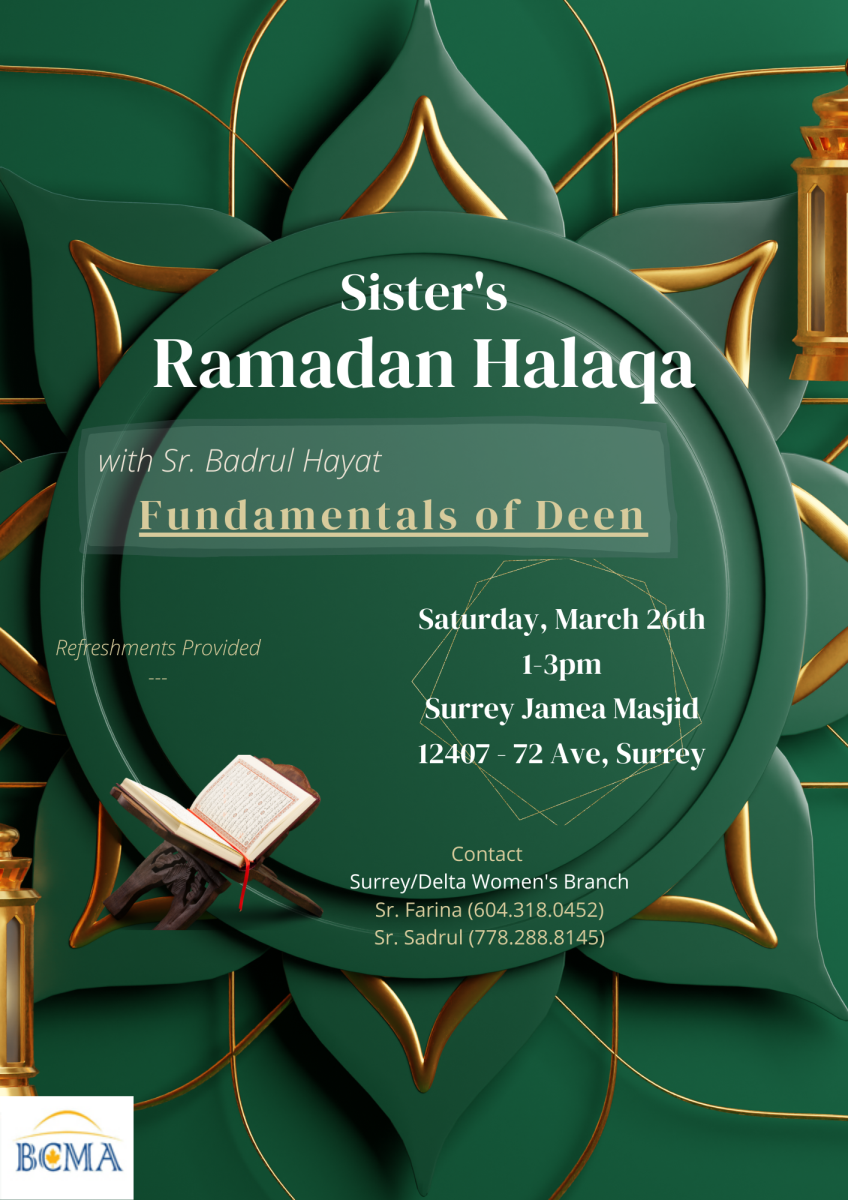 Board Of Women Council Presents - Muslim Women in Leadership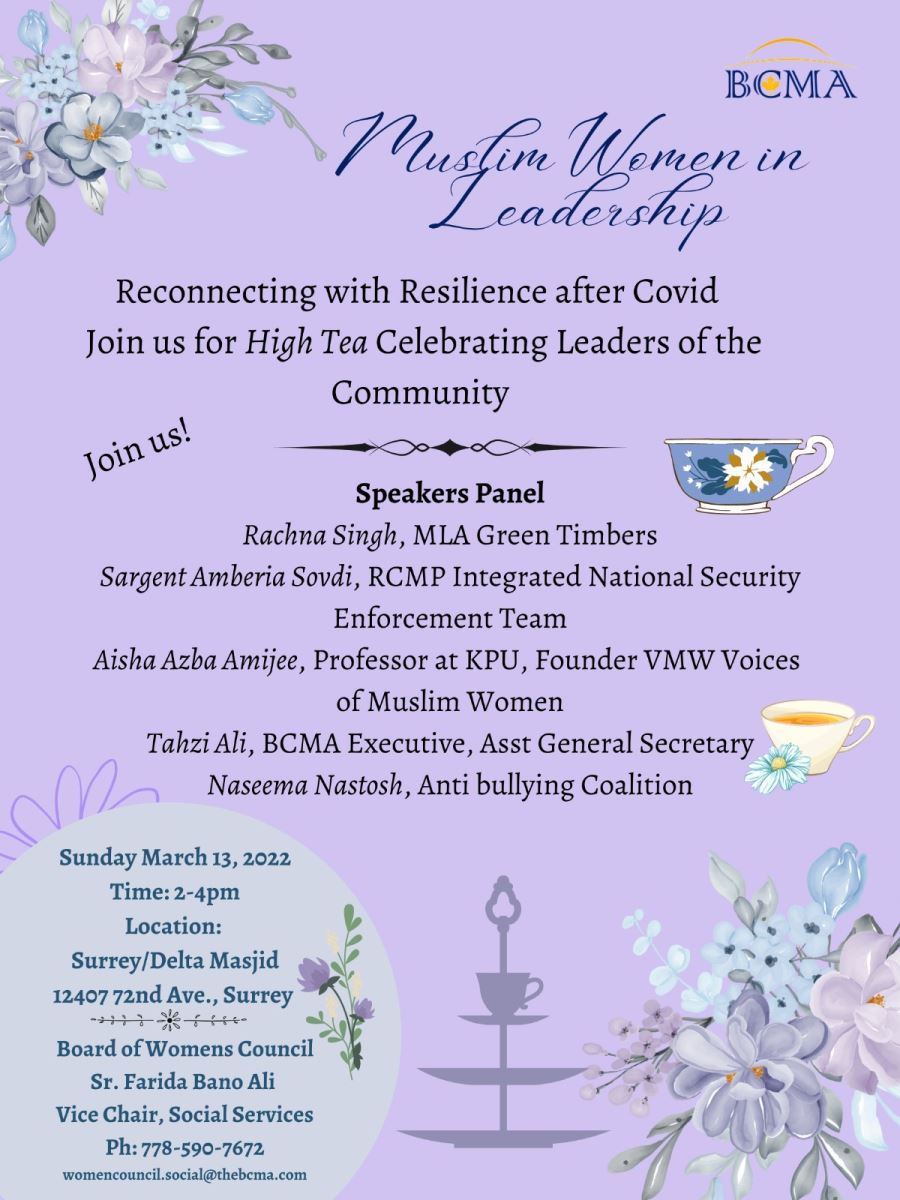 Covid-19 Restrictions Update - Friday Mar 11 2022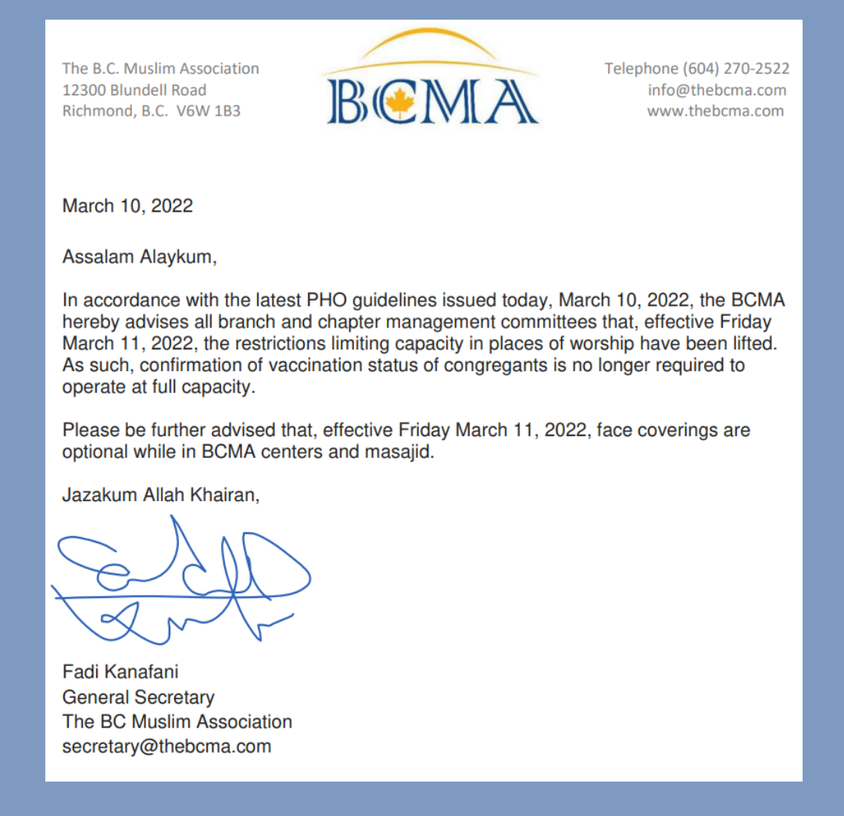 New Jumuah location in Mission BC starting Friday March 4
Alhumdolillah new jumuah location in Mission BC starting Friday March 4. As the population grows East, families have requested prayer space for jumuah in Mission. Jazak Allah khayrun to the Public Relation & Communication team for coordinating and the BCMA Abbotsford branch for managing. Please share!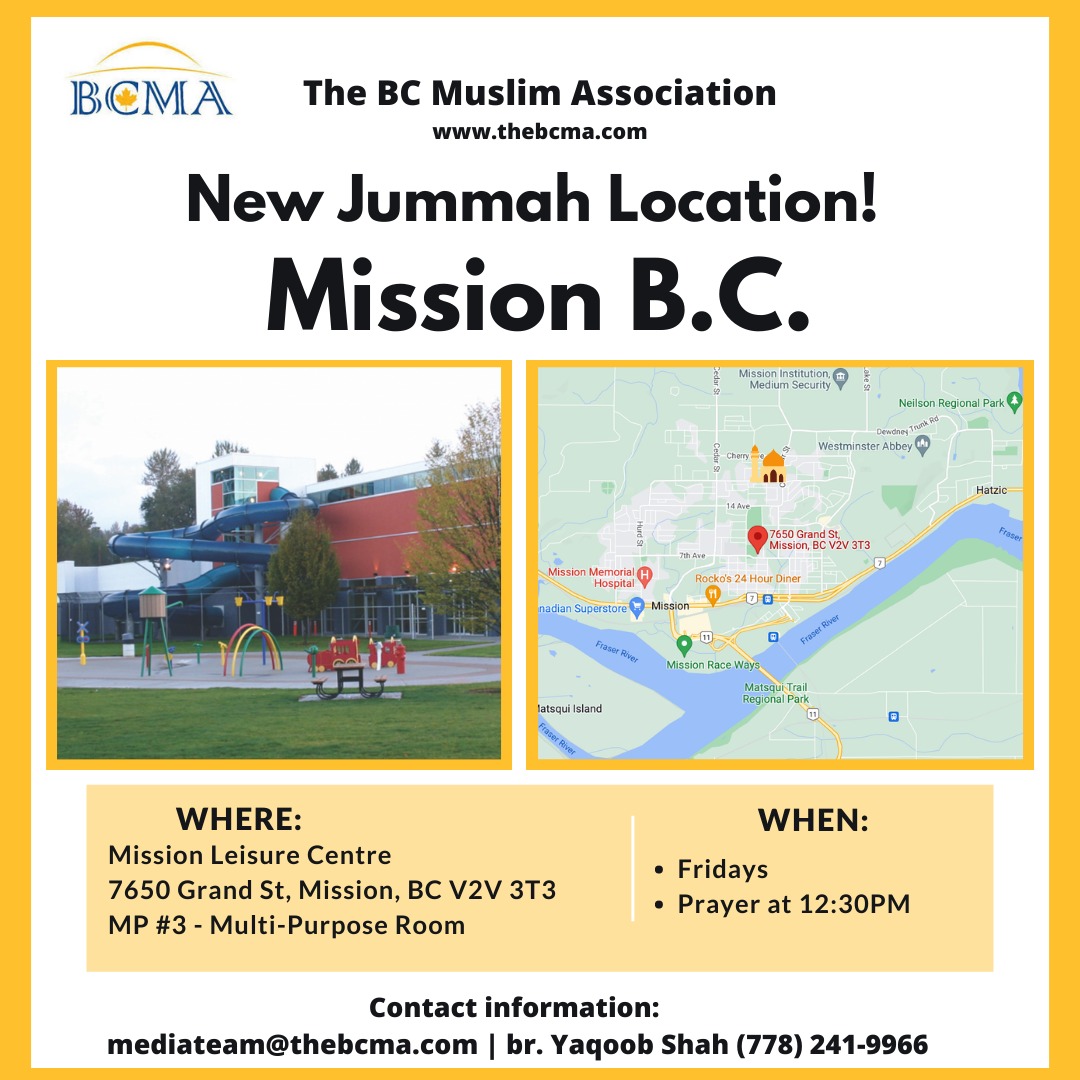 Sha'bān 1443 Announcement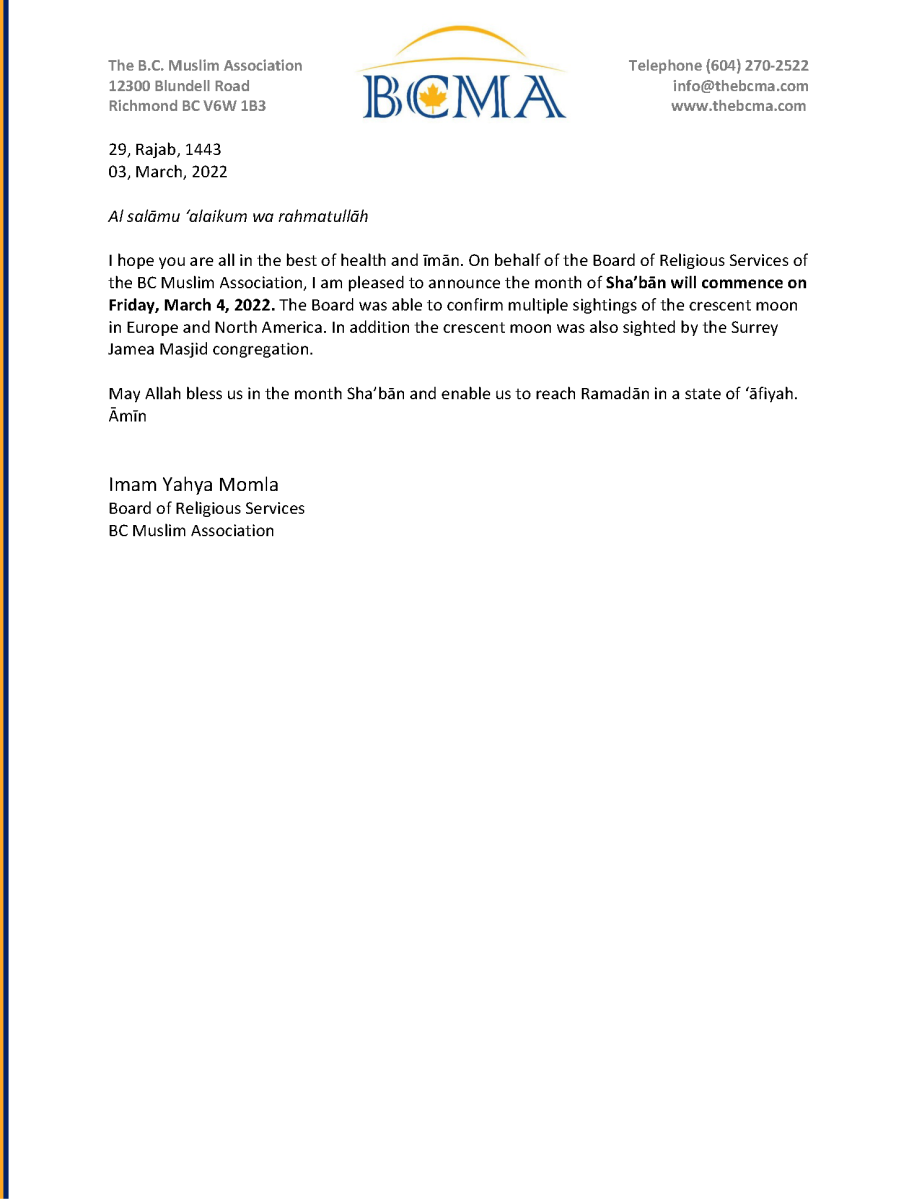 BCMA Electronic Tax-Deductible Receipts 2022 - Announcement
BC Muslim Association Women Council Presents World Hijab Day
Join Zoom Meeting
Meeting ID: 873 4157 6139
Passcode: 769695
Surrey East Women Presents - Sisters Only Halaqa Friday February 25 @ 8PM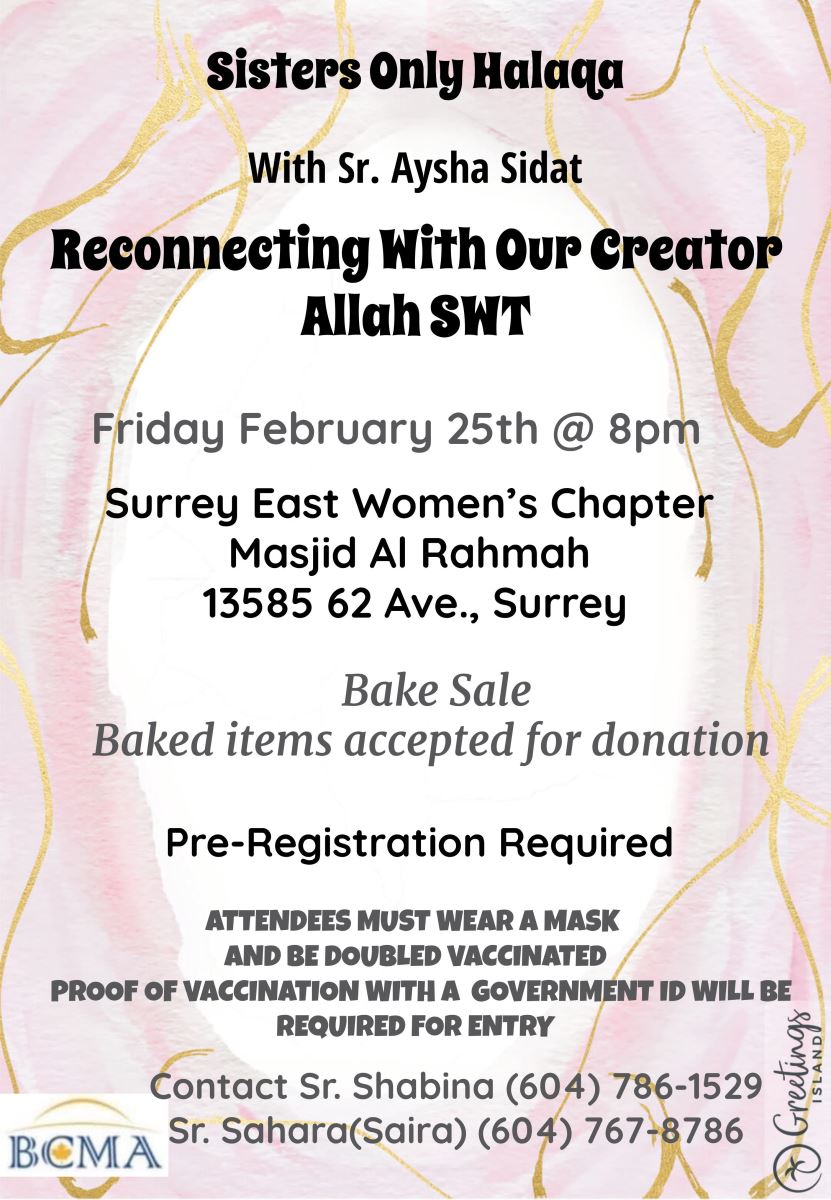 BCMA Electronic Receipts 2022 - President's Message
Family Day message reflecting on unity and blessings from Br Asad Gondal, President BCMA.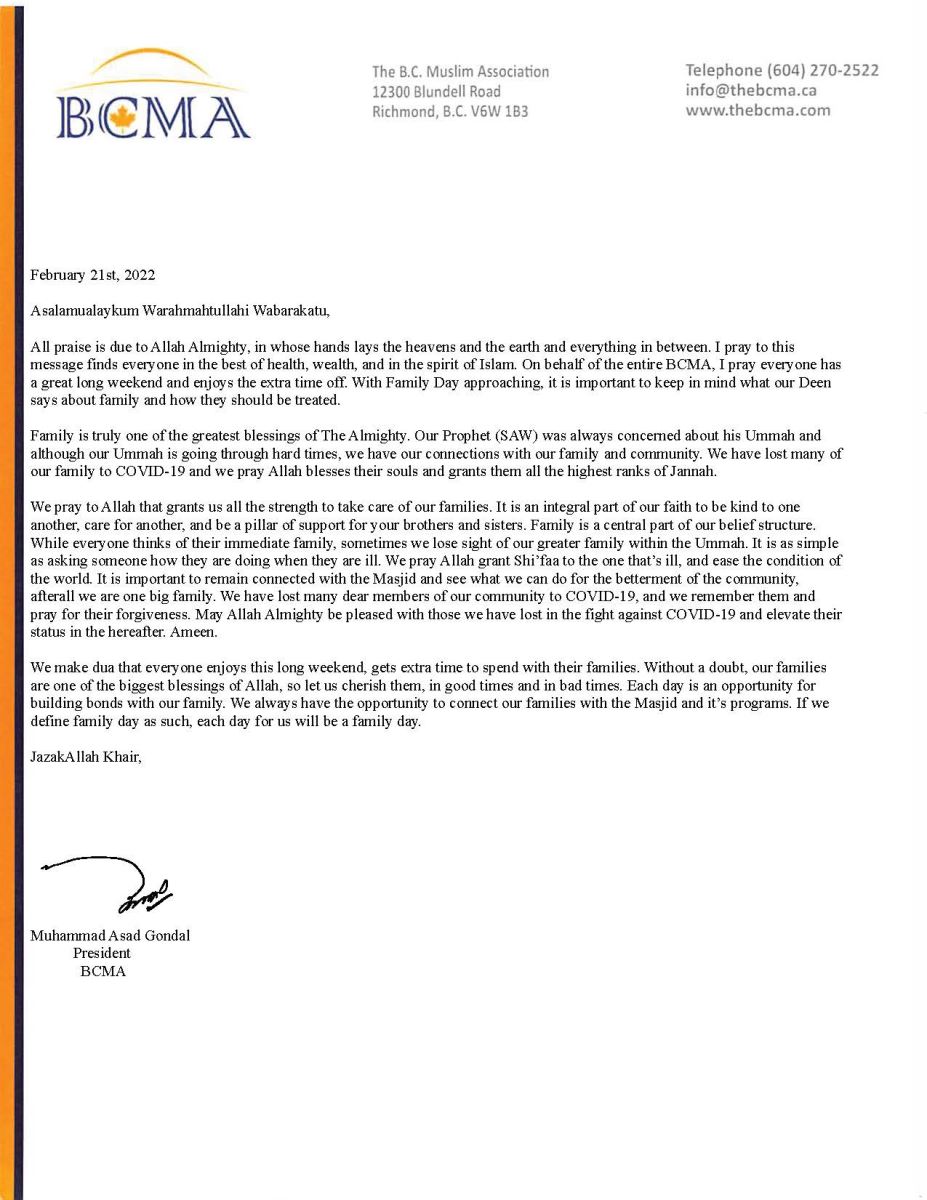 National Day of Remembrance and Action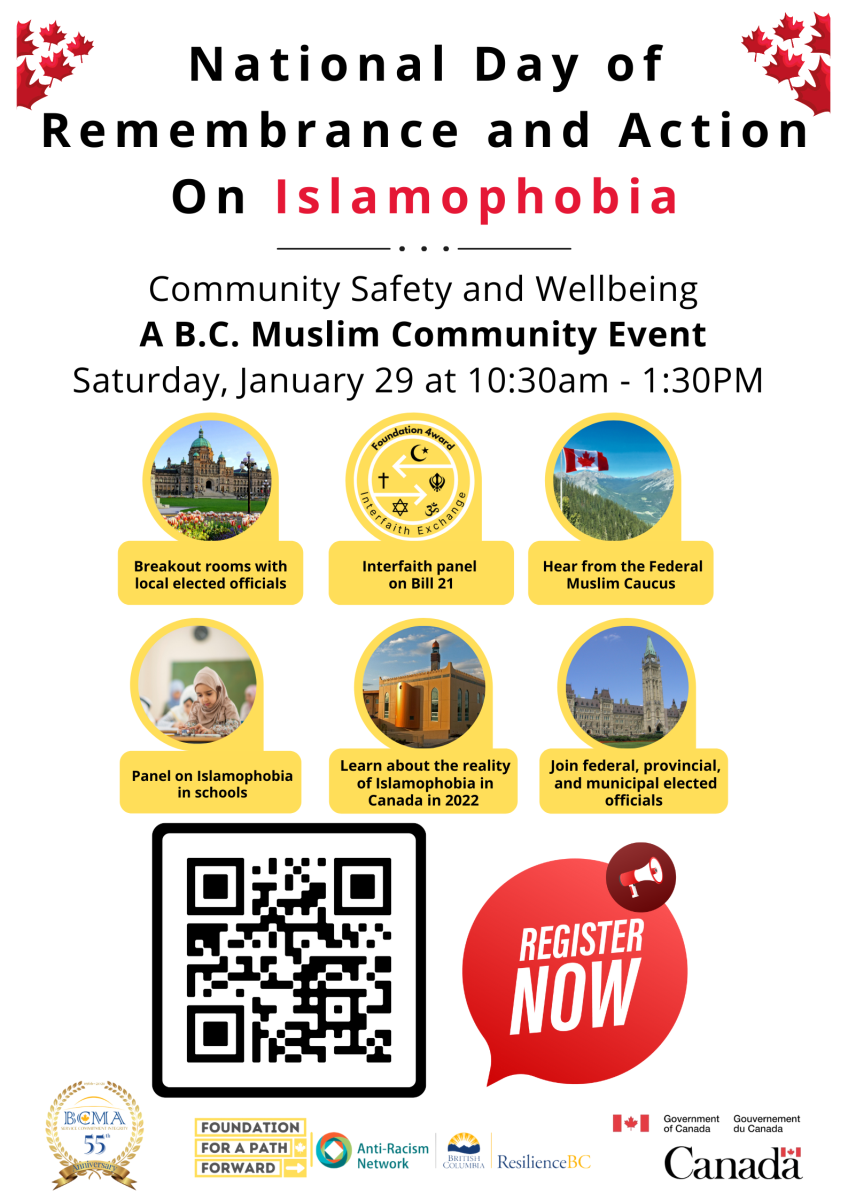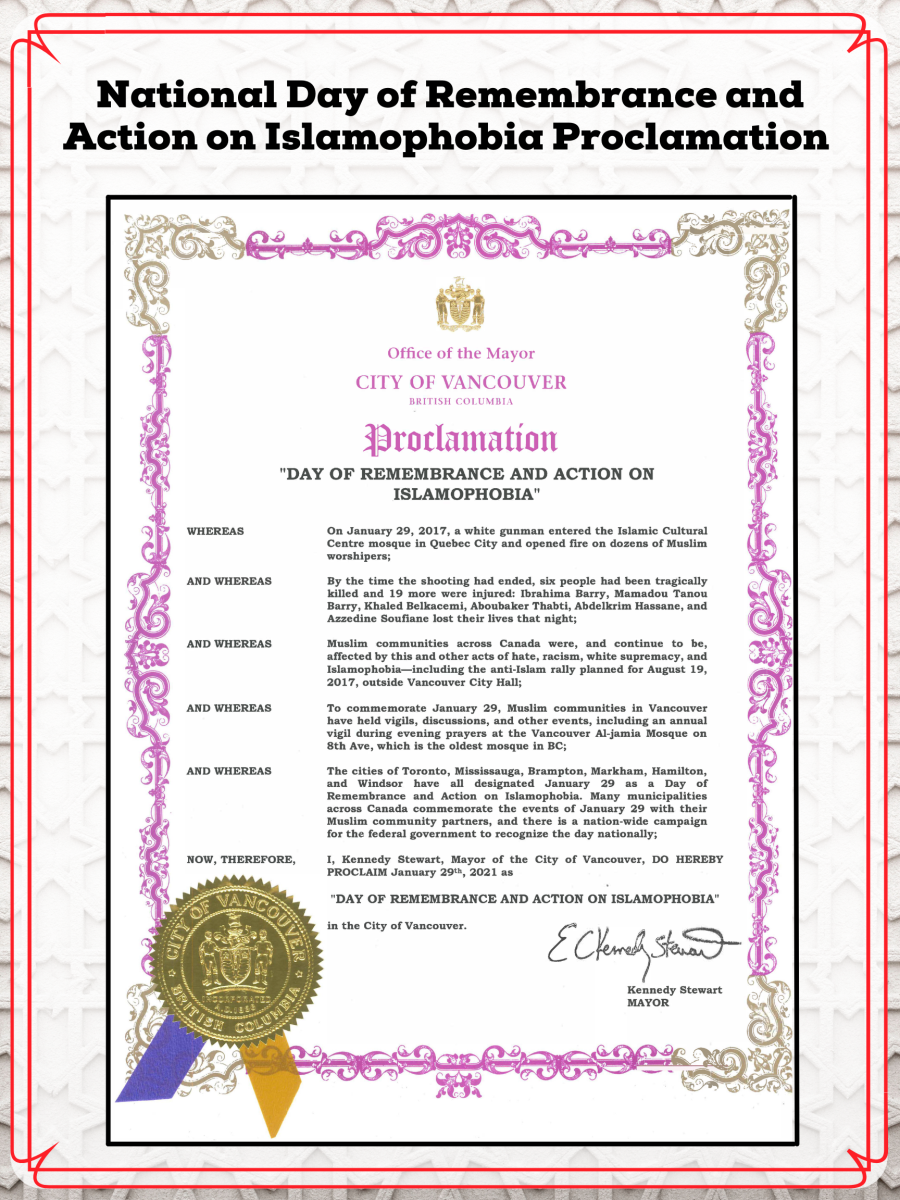 City Of Richmond - Proclamation - National Day of Remembrance and Action on Islamophobia
Hazratul Maulana Abdul Lateef Naumani - Inna Lilahi Wa innah Alayhi Rajioon – To Allah we belong and to him is our return
Richmond Muslim School & Surrey Muslim School - School Bus Driver Wanted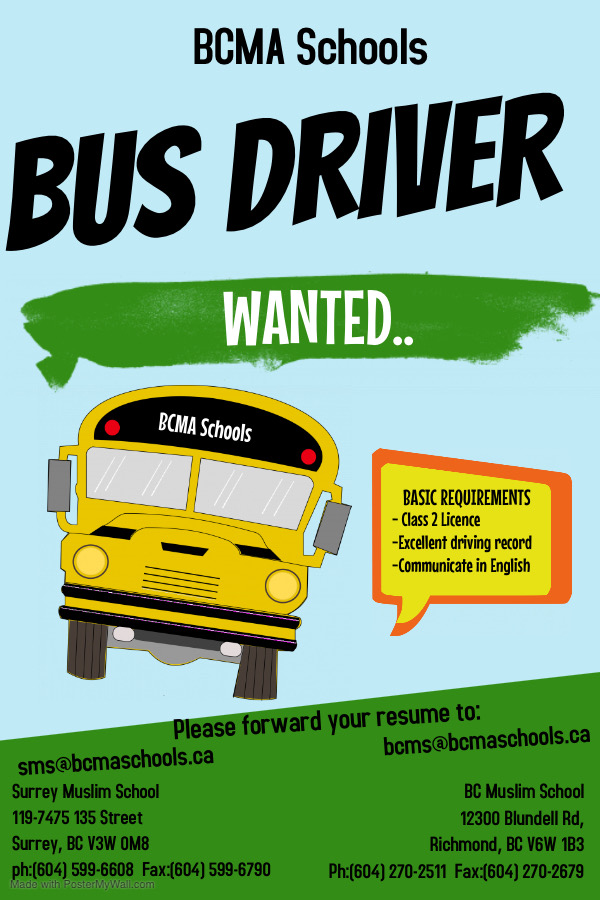 Meet The President - Book an appointment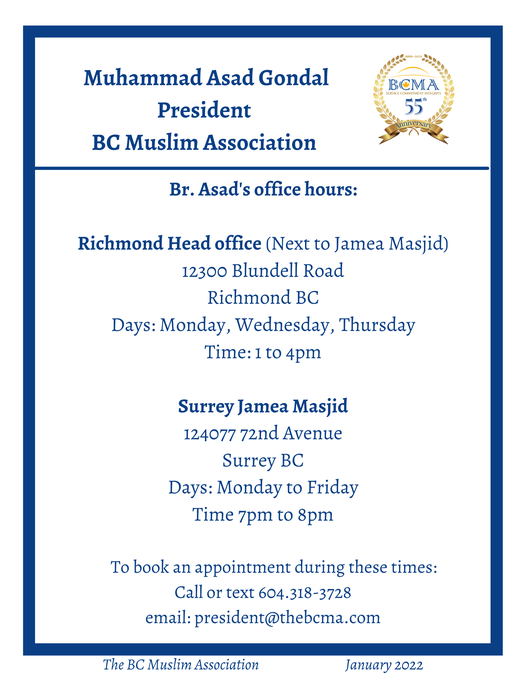 Jumādā al Thāni will commence on Tuesday, January 4, 2022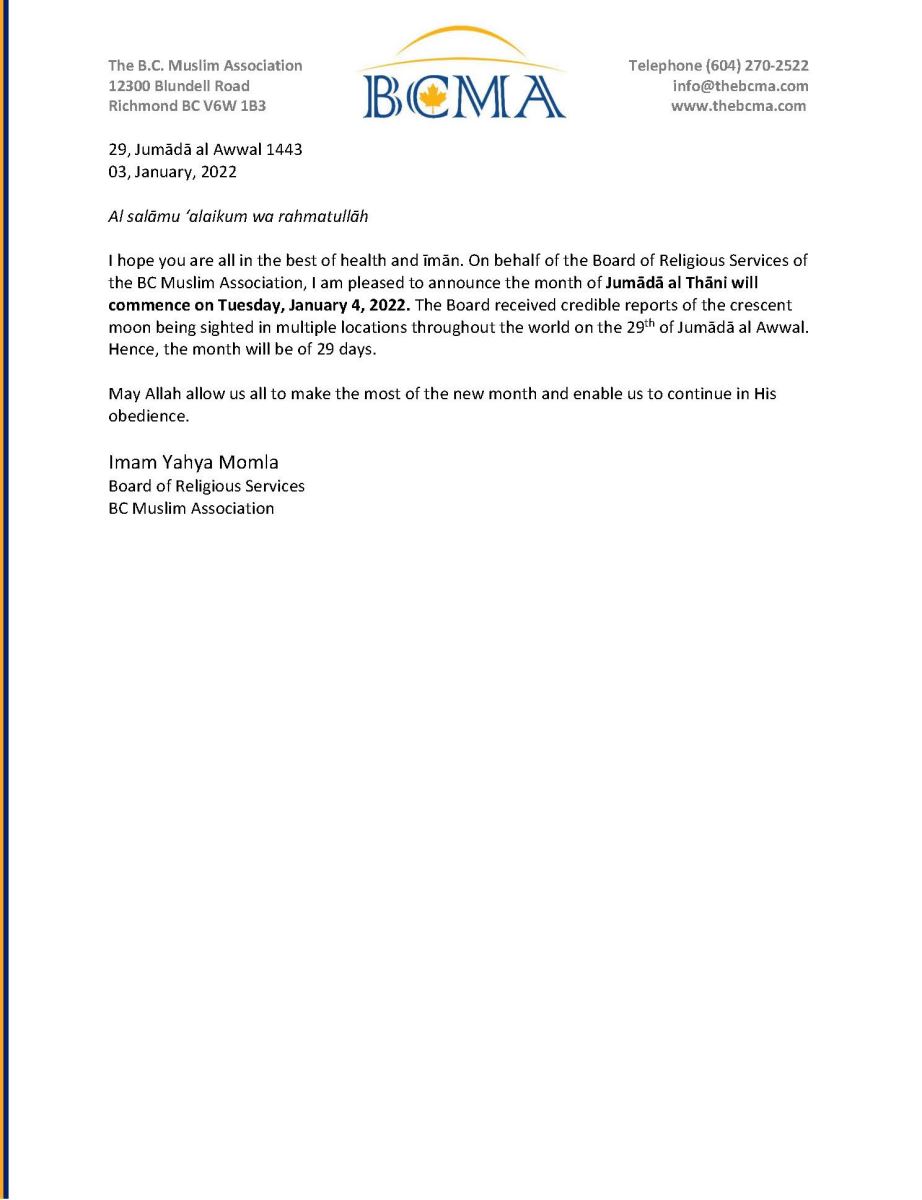 President's Message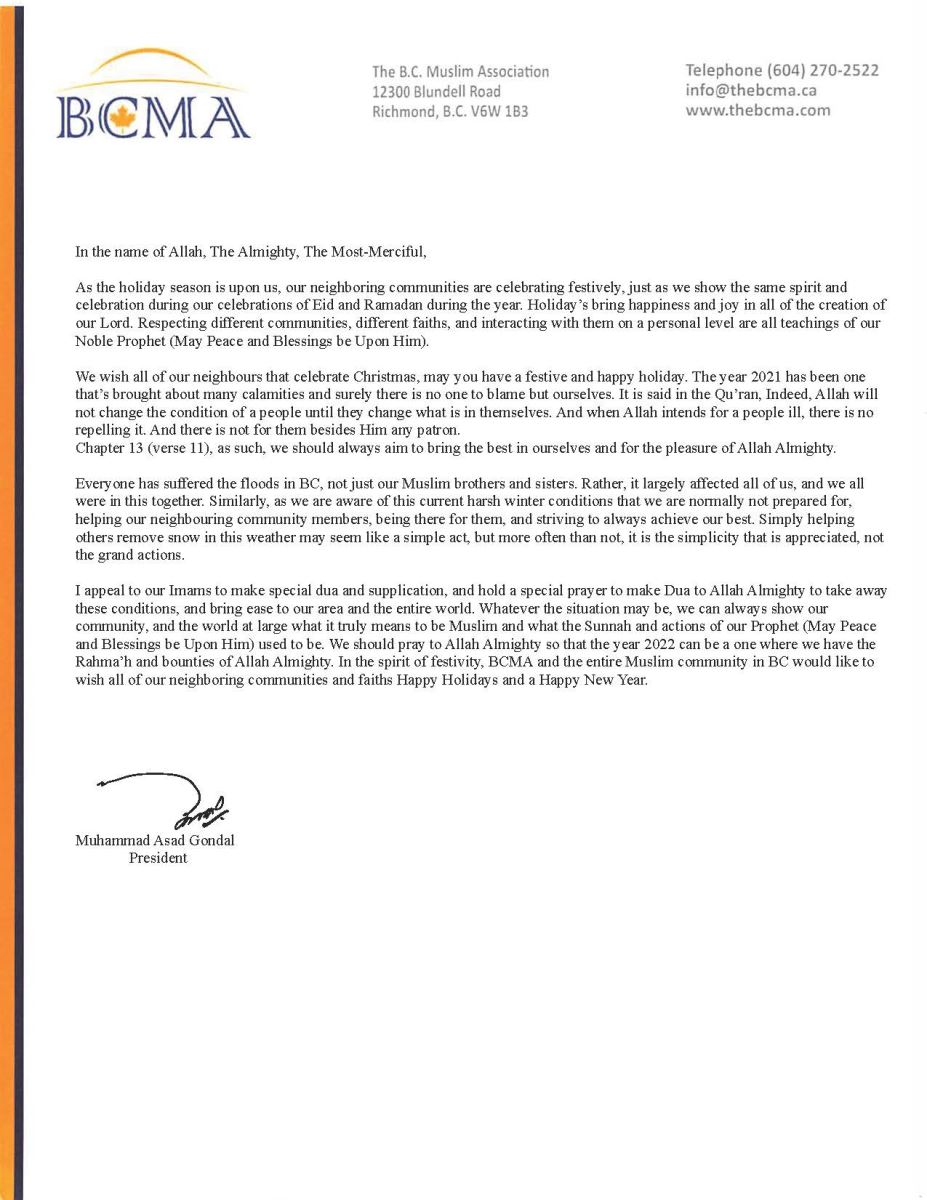 BCMA EMERGENCY FLOOD RELIEF FOR FIRST NATIONS IN MERRITT AND CHILLIWACK, B.C.
BCMA EMERGENCY FLOOD RELIEF FOR FIRST NATIONS IN MERRITT AND CHILLIWACK, B.C.
BCMA RESPONSE TO THE BILL 21 AND ISLAMOPHOBIA IN QUEBEC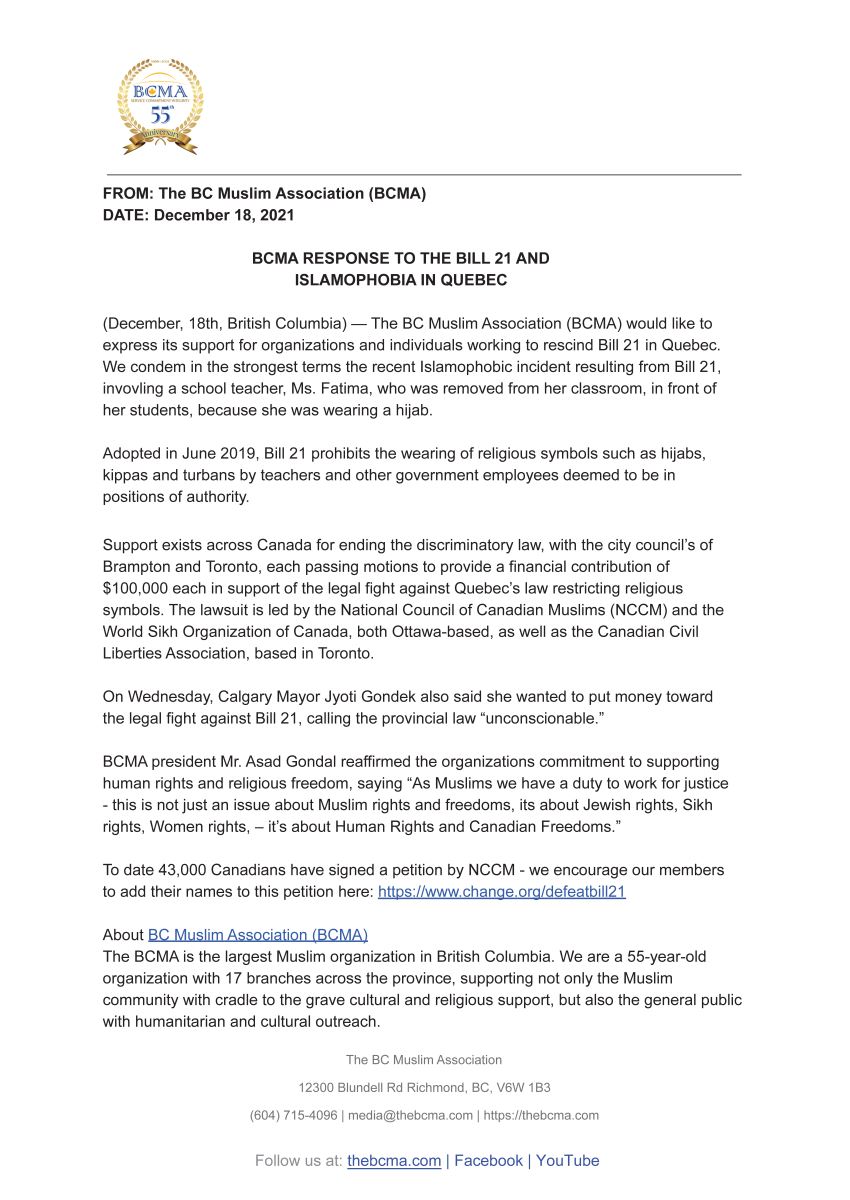 Masjid Al-Salaam Burnaby Fundraiser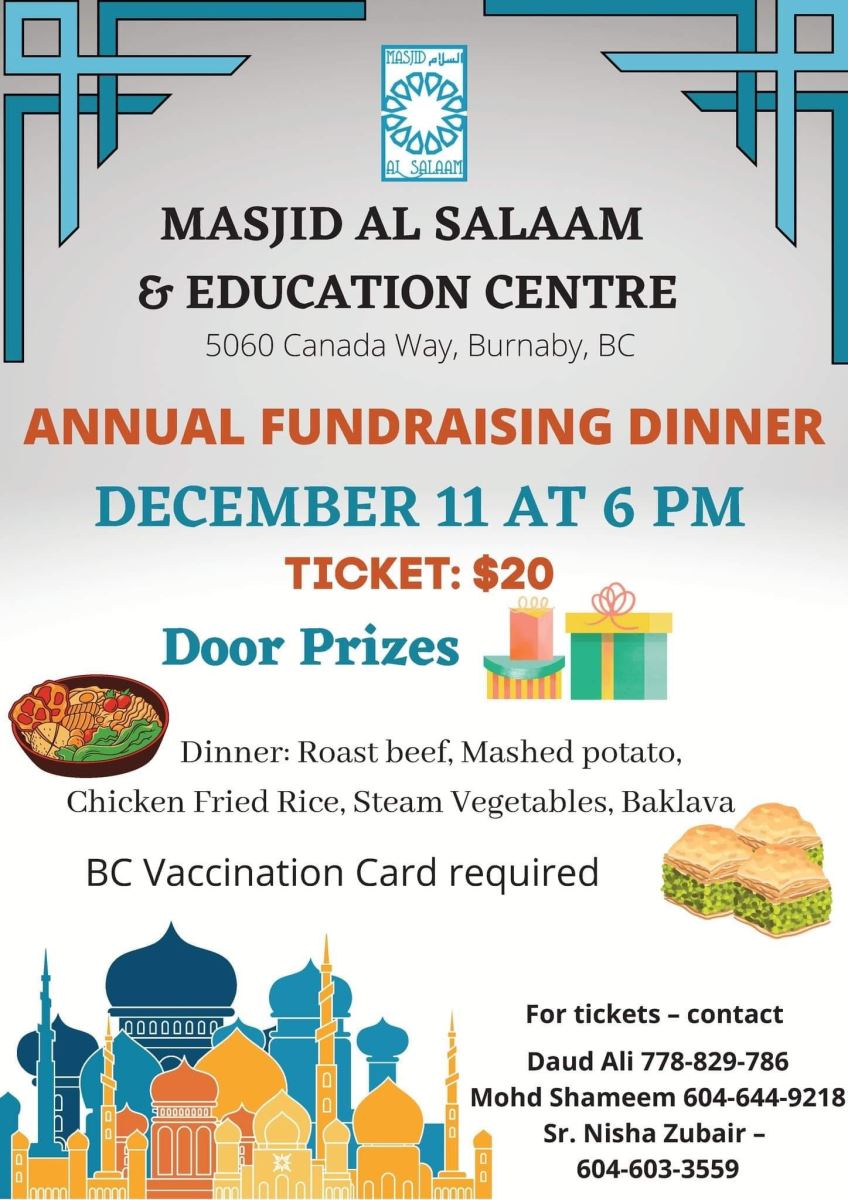 President's Message (Newly Elected)
Bismillah-hir-Rahman-nir-

Rahim,




In the name of Allah, in whose Hands lies the Heaven and the Earth and everything in between.




It is a great blessing of the Almighty, to be living in an era where communication is mass-adopted and just through a click of a button, we are able to communicate with our peers, family and friends. I wanted to take a moment to introduce myself, my goals and expectations, and what is to be expected during my tenure as President.




First and foremost, I want to thank everyone that voted for me and placed their confidence and trust in me. To those that are still skeptical, InshaAllah, I aim to change your views in due time through results and working hard together. Over the past four years, I have worked diligently as branch chair for Surrey/Delta and I have always adjoined the collective advice and acted upon a consensus, even if the decision is different from what I had put forth.




The name of this organization is British Columbia Muslim Association and I aim to gather everyone, include everyone, and hear a collective consensus before moving forward with any decision. By no means am I told what to do or will be going that route. We should never forget, the noble efforts we are putting forth is solely for the pleasure of the Almighty and it is His House's affairs we are dealing with, thus, we should act diligently and in a way that observes the Sunnah of His Beloved (

?

). Even in the time of the Prophet (

?

) Mashwarah was one of the most practiced Sunnah's of the Prophet (

?

). Moving forward, we will be moving in one direction, InshaAllah. I am not a divine interpreter and by no means will revelation fall on me, I will act on a consensus that is gathered through Mashwarah so that all of our branches, especially those in the interior that currently lack input are able to fully participate and give their thoughts on how the organization should move forward. This being said, it is important to remember, what has been decided through Mashwarah will not be later changed, even if it was myself that imposed it. Allah helps and puts Barakah in Mashwarah and a decision made through Mashwarah is surely the best of decisions, whether we see it at the time or not. Arguing or diverting from the matter at hand will only create unnecessary division, which is one thing I aim to eliminate.




Role of Customer Service

We are a public organization, and more often than not, we get an amplitude of inquiries. Our verbal speech when dealing with the public should be in a polite and soft manner, even if the person on the other side is being rude and offensive. I am not condoning abusive behavior, however, we do not always know the personal situation of a person and everyone deserves to be heard. Whether it is Head Office, burial services, or school management, these three sectors are the most inquired about and when dealing with the public, we should strive for excellence in everything that we do. All of our BCMA directors and officials should display this excellence and build our brand.




Burial Services

BCMA has always been there for our community in their most difficult time of life. Losing a loved one is the most difficult thing to face and our directors and officials that are in place for burial services are expected to be nothing but polite and kind in their dealings. A person has just lost a family member and we should only be providing them with encouraging words, and kindness. No display of aggressive behavior should be present in front of the family members that have lost a loved one. We should take responsibility to uphold the highest regard of affection when dealing with burial and Janazah services. Providing affordable and reachable services for graveyards and cemeteries is a long-term project but one of the aims of the BCMA.




Role of Imams & Due Respect for Our Imams

I want to begin by thanking our Ulamah for their service to the community. They are men of knowledge and without them, we would lack many of the necessary resources that are needed within a Masjid. We pray that Allah Almighty grants all scholars, the pious, the learned, and the entire Ummah the ability to learn the Deen of Allah and gain more knowledge.




Moving forward, I want to briefly comment on the responsibilities of Ulamah within the organization. Our scholars are the religious leaders of our community and every action and word are often recorded and repeated in times of query. This is exactly why we should be performance based. Every Imam's performance will be reviewed quarterly and this will be divided into many factors, such as whether the Imam is there at their branch for five daily Salah, what programs are being introduced, and what events are being introduced to interact with the community on a larger scale. This can come in the form of youth programs, workshops for our women, and many other creative ideas that can be gathered after Mashwarah. We have always appreciated our Imams and I do not plan on stopping that. Our Imams, our scholars, are our source of knowledge and our community should be comfortable coming to them with any and all questions or concerns.




Moreover, as it is largely established, our organization is of considerable size and we have always taken pride in our Imams. They are well-taught, learned, and the community should be giving them the due respect they deserve. They dedicated many years of their lives to the Ilm and dedicated their lives to the way of knowledge. Every BCMA operated Masjid will have a dedicated Imam, it is management's responsibility to make sure the person selected for this task is a man that is well qualified and has experience in the field. However, it is important to remember, once an Imam has been employed by BCMA, his resources should be provided to BCMA as a main priority. The community, in turn, is expected to let the Imams do their jobs with no interference. We have seen in the past others conducting programs, which were not scheduled or delivered by our Imams. This is damaging to the respect and integrity of our Imams. If by any means the Imam is not available, only then will a temporary replacement be allowed to lead.




BCMA - Schools Management Role

Education for our kids is on the forefront and our efforts should be focused on providing an excellent Islamic education for our youth. They are our future generation and we should invest in them with all of our time, health, and money. Our school should be focused on giving top notch Islamic education and something the parents of our children should be proud of. Afterall, they are paying money for their kids to be there. We should aim to achieve higher every year, InshaAllah.




BCMA As a Community & Interaction with Other Organization

As our community has grown over the years, the Muslim community in BC has also grown immensely. The affairs of the organization are much more complex than what they once used to be. Our goal is to achieve the highest level of standard for community engagement and be completely transparent in our affairs with our donors and community members. As directors and official members within the organization, we represent and are faces for the public. In BC, we are the largest Muslim association. We have many other organizations that we interact with, and whether we have a difference of opinion, it should not stop us from helping and best guiding if the time ever comes. We should always try to be unified in the things that can be unified such as Ramadan and Eid moon sighting and agree upon a consensus before moving forward. InshaAllah, this will help bring unity and we should never shy away from working with others.




Responsibility of Directors Within the Organization

All directors with their individual portfolios should be available on all levels. We must bear in mind we are in a volunteer position and we are not doing this for any other reason but the pleasure of Allah. I humbly request all directors to start praying at least 1 Salah in their Masjid and they will start seeing what changes need to be made and how they can interact with their community in new creative ways.




Youth Interaction

Youth interaction and involvement should be one of our top priorities. In every branch there is a youth and a sports director, we should be using our resources and our efforts to bring our future generation into the Masaajid and mold them into excellent leaders.




Women Integration & Role of Women Council

The role of women in any capacity is always a great one. Whether it be in the form of a mother, sister, wife, or aunt, one thing is for sure: Allah Almighty has made the woman as a balance for the men, equalling out and completing. The mother is the first teacher in a child's life and it is how we are taught and observed through our mothers are the actions we show later in life. The overall role of women within our organization is salient. However, we should not forget Sharia' and its teachings and always aim to never cross those certain boundaries that have been frowned upon. Women will work within the organization on all levels. Asides from two branches, there is no women board of management in our interior branches and many other branches. We are aiming to work together and it is important for the Women Council to visit our branches and gather more women at the management level so we may see greater interaction of women within our organization.




Halal

One of the most noticeable traits I have seen in my life is what we feed ourselves is what we become. I am a firm believer in Halal makes Halal. Primary importance will be given to retailers that are 100% without a doubt Halal carrying BCMA certified. We have always worked with new and existing retailers to grow their businesses through Halal certification and advertising.




Group of Committee's

We have six committee's within our organization which serve a very important role. Namely they are:

5. Investigative Committee

6. School Management Committee




We do not have the same interest in leading in a place of management like we used to in the past. Many of our branches do not even have a full eleven members on their board. Prince George does not have a board, Nanaimo does not have one and Abbotsford only has four members. One reason is because being a director is a volunteer position and more often than not, Musali's and director's lack the mutual respect and we have seen this time and time again. The Fact Finding and Investigative Committee is in place to uphold the integrity of the BCMA as a whole. The election committee has done an excellent job but we should give more resources to this to conduct elections and speed up our efficiency.




Membership

Membership is lacking in the organization. This could be because of lack of interaction and little information of what we have to offer. Every branch has a director for membership and it is our responsibility to gather more members each year. Based on registered membership, there are only close to 3000 and one branch is carrying more than ? of the total membership. New and creative ideas to attract new members, such as holding membership workshops alongside branch chair and membership director should be available in all of our branches. This could take some time, but InshaAllah, we can accomplish this with a joint effort. InshaAllah, within this coming year we should try to sign 1000 new members.




The Role & Need of IT Within the Organization

As of now, BCMA is running on a hybrid system. We are implementing some technology but mainly we are using the old school system to run our affairs. Management is calling for more IT integration so that we may achieve more efficiency in our actions. This is a volunteer position and we often lack the necessary resources so I want to take a moment to thank the brothers that have made an effort in the past, namely Br. Abid and Br. Abdullah Nasib for trying to blend IT within the organization. At the very least, each director should have a personal email in which they are able to communicate with the public. InshaAllah, we will be promoting and giving more attention to IT in the next quarter and the abovementioned point regarding personal emails is expected to be achieved in a timely manner.




General Message

One thing that will not work in its entirety is controlling and abusive behavior. Controlling and abusive behavior is never in the favor of an organization. We would need to stay available for our community and directors should take the initiative to be at the Masjid for at least one Salah for each director.




Our decision making process is very clear and we are often faced with complaints that branches were not involved. This will be changing immediately. We live in the age of technology and because of COVID-19, we were given the inspiration to take everything online and because of that, we have seen more interaction. This will hold true for all of our interior branches where little communication takes place and their input is seldom taken. Interior branches will hold the option to join all meetings, be it general or council, through Zoom and we aim to work closely in the years to come. We can move forward in a healthy way and a decision will still be made whether members are present or not. The only downfall to this is, less Mashwarah is made, less input is given, and the general consensus is agreed upon with fewer directors, which often brings about mayhem.




Conclusion

All in all, it is a pleasure to be here and I am beyond humbled and thankful to The Almighty. I understand the role of President is a grave one and I am no one when I stand alone. I will need everyone's help. I am a team player and I do not operate in a way where our decisions are not unified. I always try to eliminate conflicts of interest and always aim to avoid them altogether. When a decision is made on a general consensus, that will be final and everyone is expected to abide by the decision. If we are fighting with ourselves within the organization we risk the overall integrity and authority of our roles and it is dangerous waters to be swimming in. I pray Allah SWT grants me the ability to best observe this role as a leader and I ask for my team to grant me their strength and assistance.






BCMA 55th ANNUAL GENERAL MEETING
Assalaamu Alaykum,
We hope you and your family are in the best of health and Islamic spirit.
Place: Richmond Jamea Masjid.
12300 Blundell Road Richmond BC
Again, please be informed that due to current challenges with weather and the COVID-19 pandemic, the Association may if necessary choose to have this meeting conducted remotely on Zoom. You will be properly informed if there is such a change.
All members are required to pre-register for the meeting so we may check your status in advance. If you do not have your membership number, please use 8888 and we shall look it up for you. Those of you who have registered and wish to have a hard copy of the Annual Report, please see your local masjid management a week before the meeting.
If you have any questions, please do not hesitate to send it ahead and we will table it during the meeting provided you are in attendance.
The election of the new BCMA president for 2021-2023 will immediately follow the meeting.
Announcement - COVID-19 - New Public Health Officer Orders
Assalaamu Alaykum,
We hope you are in the best of health and Islamic spirit.
Further to the announcement yesterday by our Public Health Officer with regards to reducing the risk of COVID-19 to the congregants during worship, please be informed of the following new measures that will be implemented effective immediately at all BCMA facilities:
Face masks are now mandatory;

BCMA officials or appointees reserve the right to check proof of vaccination;

BCMA officials or appointees reserve the right to reduce the number of congregants;

If you have any flu like symptoms please do not come for congregational prayers.
Please check with your local center for details.
We expect our patrons to help us by abiding by above instructions.
May Allah make it easy for all of us.
Jazakum Allahu Khayran,
BCMA EMERGENCY FLOOD RELIEF FOR BC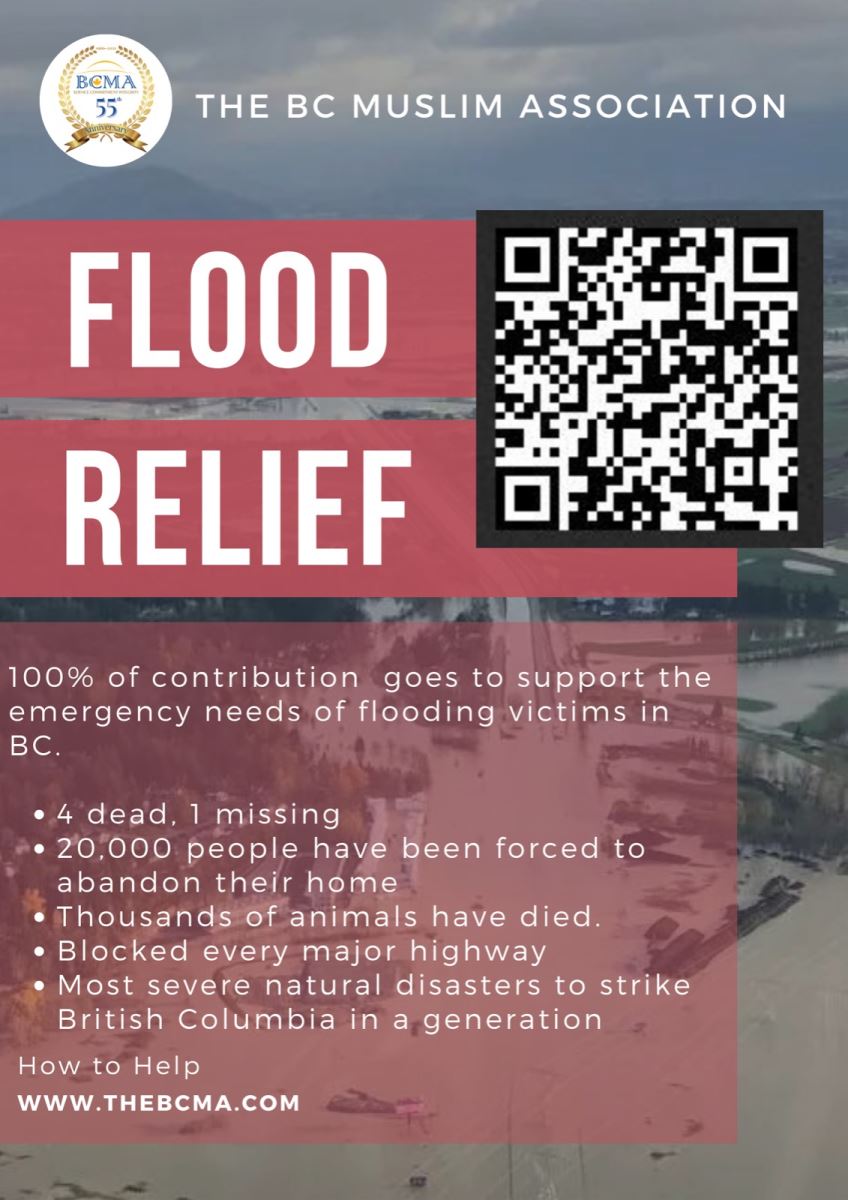 Happy 55th Anniversary BCMA
Happy 55th Anniversary BCMA.
On the 17th of November 1966, the BC Muslim Association was incorporated as a society under certificate 7532 of the Society's Act. This gave the organization official status as a non-profit religious entity with an unlimited life expectancy. This also came with responsibilities.
BC Flood Disaster Relief Appeal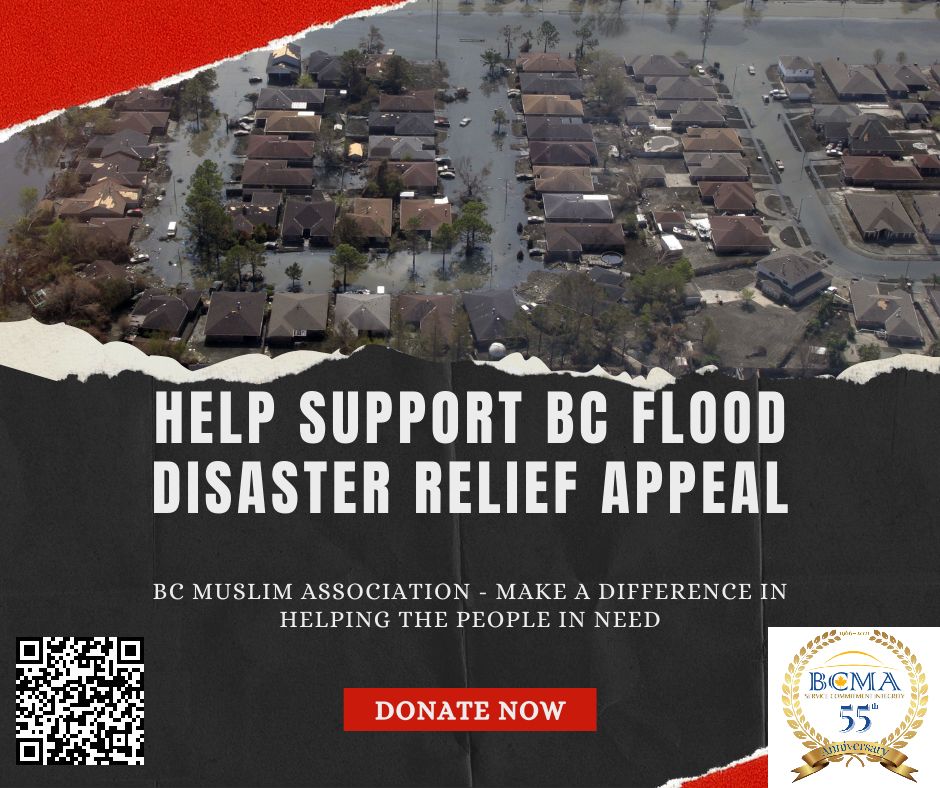 Inspector for Halal Inspection and Certification
BCMA Halal Inspection and Certification is the largest halal certifier in British Columbia that certifies slaughterhouses, manufacturers, wholesalers, retailers and restaurants. We are looking for inspectors who can inspect these facilities to ensure they comply with halal certification standards. Training will be provided.
Number of Positions: 2
Status: Part-time
Workdays: Monday to Friday
Starting date: December 20, 2021
Starting pay: $18/hr plus mileage
To apply, email your resume to Imtiaz Asin at: manager@hiccanada.ca
Deadline to apply is November 29, 2021.
Manager for Halal Inspection and Certification
BCMA Halal Inspection and Certification is the largest halal certifier in British Columbia that certifies slaughterhouses, manufacturers, wholesalers, retailers and restaurants. We are looking for a manager who can coordinate inspections, market and administer the program. Training will be provided.
Number of Positions: 1
Status: Part-time
Workdays: Monday to Friday
Starting date: December 20, 2021
Starting pay: $23/hr plus mileage
To apply, email your resume to Imtiaz Asin at: manager@hiccanada.ca
Deadline to apply is November 29, 2021.
Ladies Soccer Tournament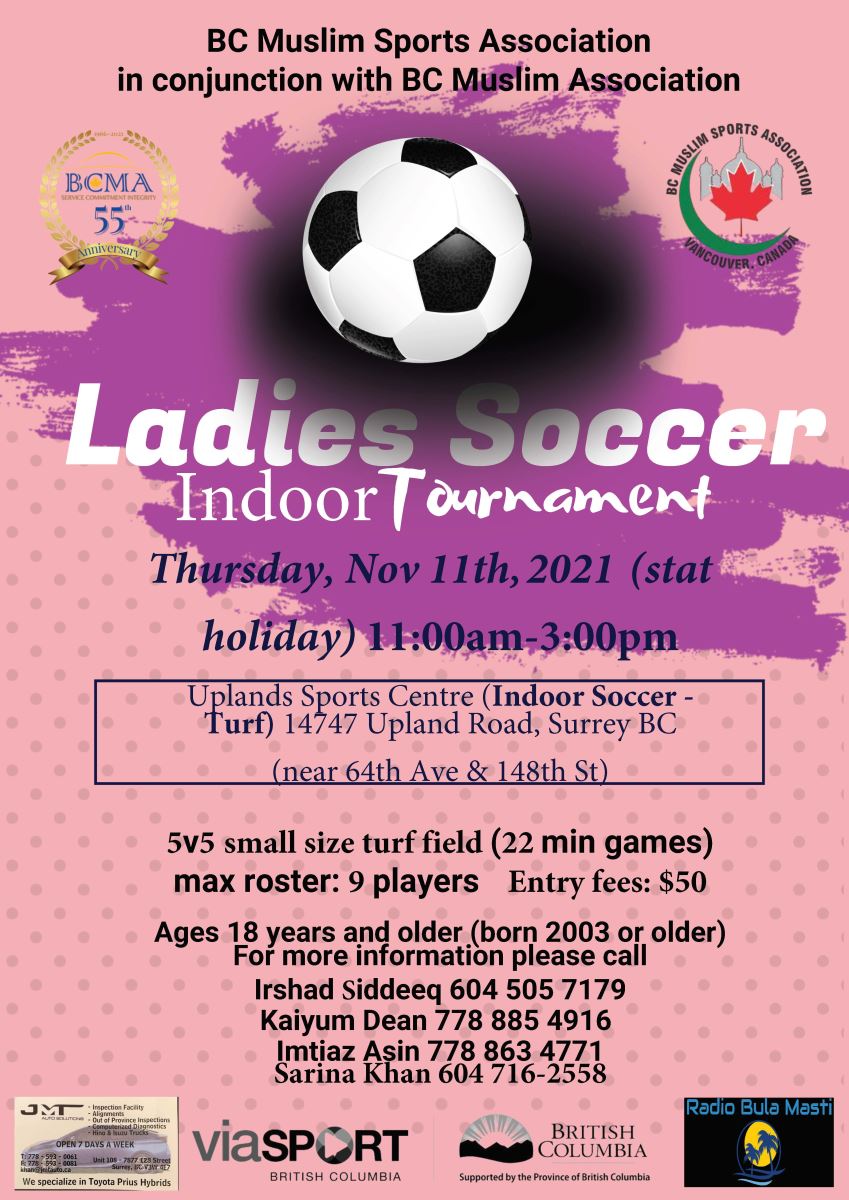 Rabī' al Thānī will commence on Saturday, November 6, 2021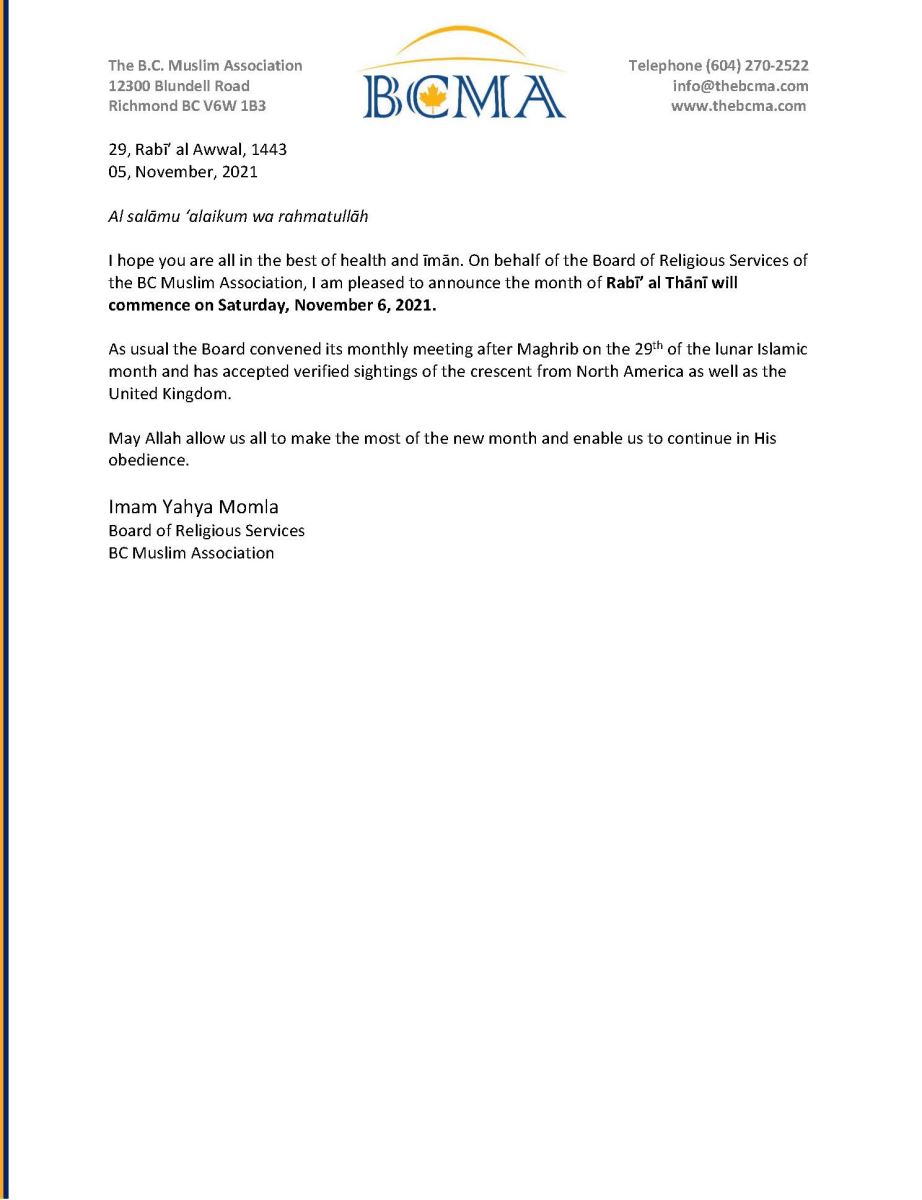 BC Muslim School Richmond - Employment – Receptionist/Secretary
Interested in joining our team? Please send your resume, a cover letter and 2 references to chantal@bcmaschools.ca. We thank all applicants for their interest, however only those candidates selected for interviews will be contacted.
BCMA - Friday Prayer in Ladner and Tsawwassen
Jummah Salah in Aldergrove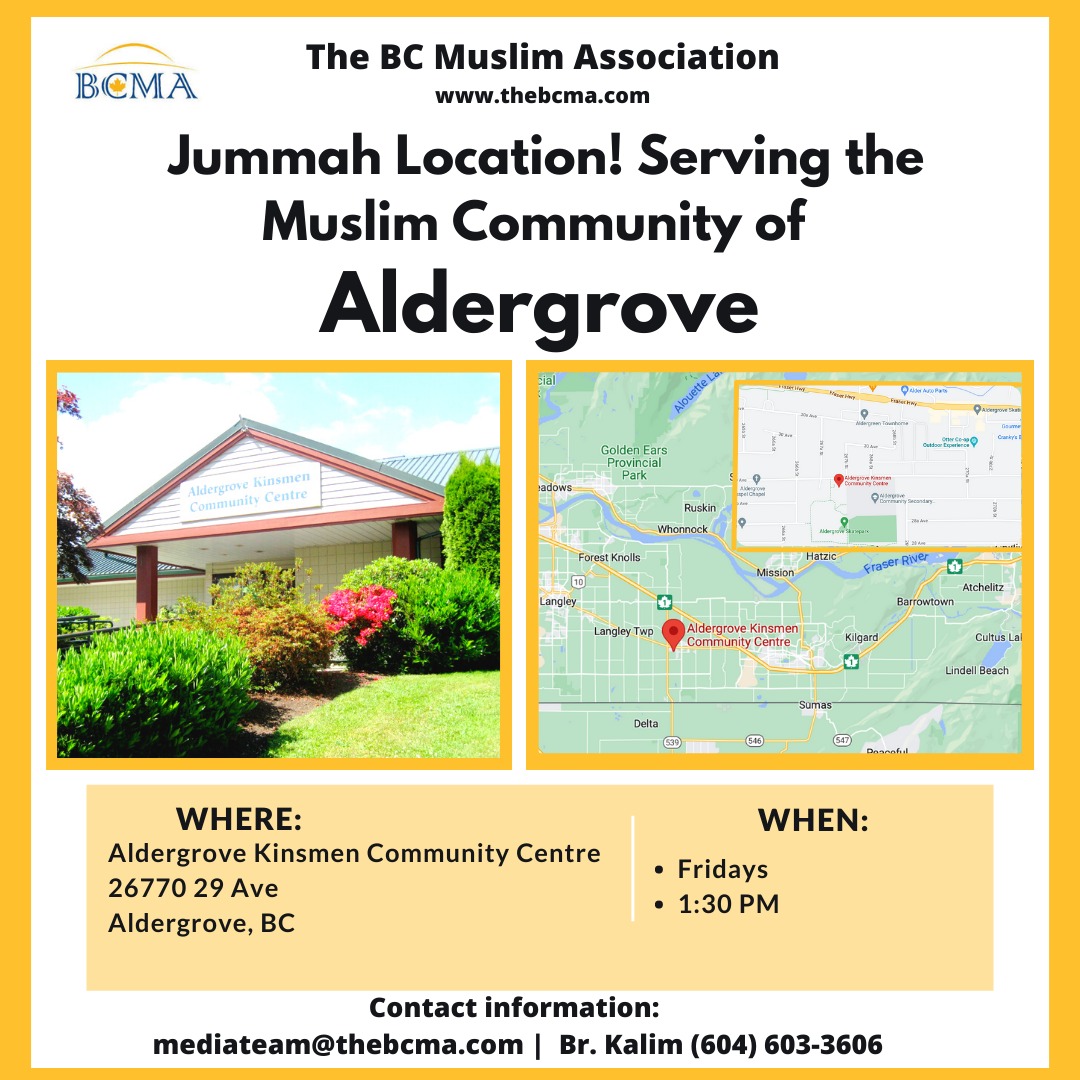 Jummah Salah in Campbell River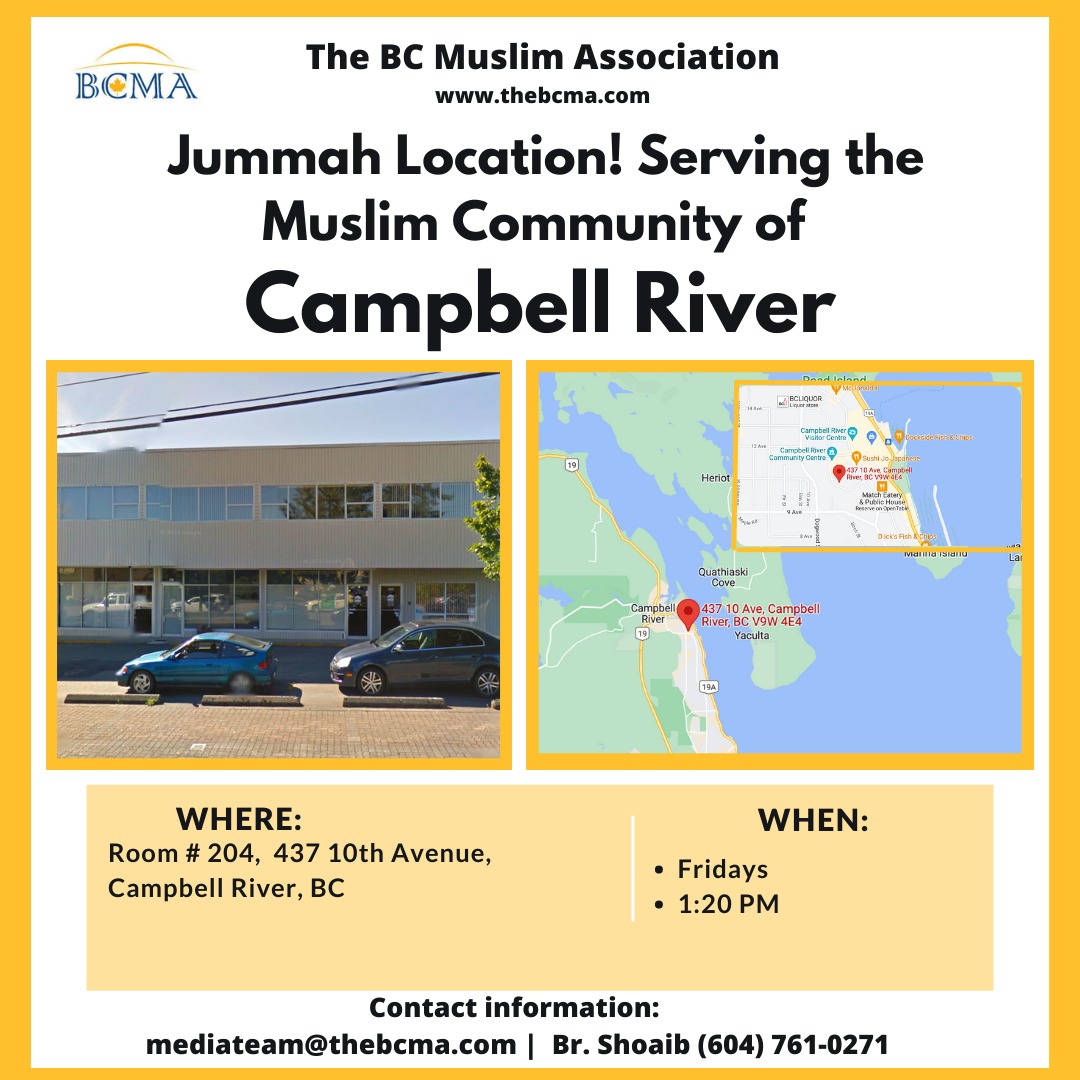 Jummah Salah in Sunshine Coast